YAKOV'S FAREWELL

Join accomplished alumni of Southeastern's Chamber Orchestra in this farewell concert tribute to longtime conductor, Yakov Voldman.

74 DAYS A NATION

Listen to popular historian Sam Hyde discuss a key moment in the genesis of the Florida Parishes with the 1810 Republic of West Florida Revolt in "74 Days a Nation".

THE PHOENIX BOYS CHOIR

Enjoy the voices of the Grammy-winning Phoenix Boys Choir, the largest boys choir in the United States, as they perform at the Columbia Theatre in downtown Hammond.
Study TV & Film
Gain hands-on experience both on-camera and behind-the-camera.
Start training in both studio and field TV, film and video productions. Students are trained as writers, reporters, anchors, talk show hosts, live sideline reporters, and sports play-by-play and color announcers. They learn as producers, directors, videographers, editors, animators and graphic artists, and in the studio as directors, technical directors, floor directors, camera operators, graphics operators, video technicians, audio engineers and teleprompter operators.
Recently Updated Video On Demand
The Southeastern Channel officially hit the airwaves July 9, 2002 and in the past 15 years has established itself as one of the premier university television stations worldwide.
With high-quality production and programming as its staple, the Southeastern Channel has already won over 300 regional, national and international awards, including 15 Emmy Awards and 56 Emmy nominations along with multiple top awards from Tellys, College Broadcasters, Inc., Society of Professional Journalists, and Southeast Journalism Conference, Worldfest International Film and Video Festival, Associated Press College Broadcasters, Louisiana Association of Broadcasters, College Sports Media Awards, Videographer Awards, Communicator Awards, ADDY Awards, Axiem Awards, Aurora Awards, New York International Film and Video Festival, Los Angeles International Film and Video Festival, Hot Springs Documentary Festival, Colorado Environmental Film Festival, New Orleans Film Festival, and the Twin Rivers Media Festival. The Southeastern Channel is the only university channel in Louisiana history to have won an Emmy.
Led by an international award-winning professional staff, some with decades of experience at the national television network level, the Southeastern Channel produces over 600 hours of fresh original programming each year. The channel airs over 140 hours of original programming each week, nearly 90 percent of its programming schedule. The Southeastern Channel produces and airs educational, community, cultural, entertainment, and sports programming, including live forums, music concerts, and sports events, for its North Shore and southeast Louisiana audience. The Channel's 24/7 webcast, its "live" stream to mobile devices and its Video on Demand programming can be seen worldwide. The Channel is also available Facebook, Twitter, Instagram, and Youtube.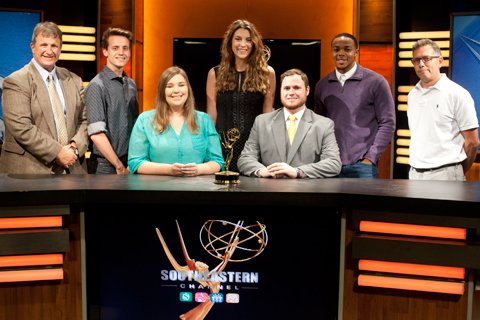 In its short existence, the Channel has produced nearly 150 graduates who've landed jobs in TV, video and film. Included are 25 news and sports anchors spread out across the country from California and Texas to North Dakota, Washington, D.C. and South Carolina. Included are Randi Rousseau, morning news anchor for WDSU-TV Ch. 6 (NBC), named one of the top two news anchors in New Orleans. Also, Daniel Brown, a two-time Emmy winning producer and news director at WXIA-11 (ABC) in Atlanta, Ga.